Living with Momma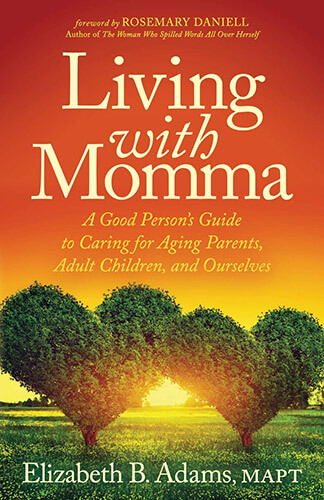 Living with Momma: A Good Person's Guide to Caring for Aging Parents, Adult Children, and Ourselves
In bookstores now!
Author and Pastor Elizabeth B Adams combines sacred stories and personal narratives to give people living in chaos some peace as primary caregivers. This book is for people serious about finding rewarding relationship when adult family members are living together.
I'd love to hear about your fruitful adventures in Living with Momma: A Guide to Caring for Aging Parents, Adult Children, and Ourselves.
Please email me or comment on the World Peace Project Facebook page at http://fb.me/ElizabethBAdamsAuthor.
If you are interested in exploring further email me at the World Peace Project website here for the dates of upcoming retreats, workshops, and video chats.
the three questions to ask for immediate change
the gifts we are promised that invite LIVING as a better way to be a caring person
to know when and how to discuss difficult life changes/choices with respect
how to count the costs of living with a family member
how to find peace in a crowd of needs
how to rewrite family roles and myths
how to find the essence of your caregiver self to remove stress or caretaker fatigue
This book offers a guide for spiritually transforming your relationships with people who are in demanding life-stages.
Resources